Naked Voices is an experienced group of singers based in Brighton, and regularly performs in Sussex and beyond.
The group performs with up to a dozen singers. The number can be adapted to suit particular events or occasions, or even to fit into the smallest of venues.
For all occasions
Naked Voices sing a wide range of unaccompanied songs from different parts of the world and from different periods. Their earliest song dates from the thirteenth century, and run through to arrangements of popular twentieth century songs.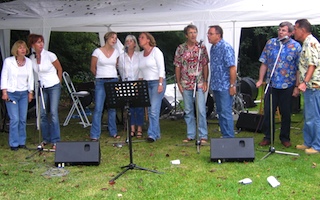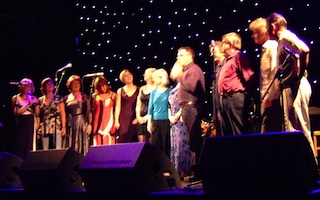 If there is a "typical" Naked Voices programme, it would be a mixture of lively upbeat songs with some older more formal or thoughtful items thrown in.
For example, a birthday event can be programmed with relevant songs and aspects to suit the person who is celebrating. Or we even write special songs in full harmony to make the performance even more tailored. The group has a huge repertoire to select from and when an event calls for a particular theme a selection can usually be assembled and rehearsed to suit most occasions.
Another recent example found Naked Voices singing as the backbone for a Civil Partnership ceremony in a Brighton Hotel. This involved performing at the front of the ceremony as the guests arrived, providing music for the partners to walk up the aisle, songs during the signing of the register and for them to walk back down the aisle at the end.
One approach to introducing our programmes is to explain each of the songs in a lively and amusing way and, as appropriate to each occasion, to relate the songs to the event. This can be suitable to a cabaret layout of seating and it is entirely appropriate for this to be mixed with an audience enjoying food or drink. Thus we are comfortable with singing in pubs, clubs or at dinners, as well as more formal concert settings.